Anna Paulina Luna Faces Conspiring Candidates with Shady Backgrounds Linked to China and Big Pharma
January 24, 2021 Updated 4:07 P.M. ET
SAINT PETERSBURG (FCV) – Anna Paulina Luna, an America-first, Trump-endorsed Republican running to represent Florida's 13th congressional district, is going against Republican opponents linked to hire-for-murder allegations involving Luna, pharmaceutical lobbying, and whom are conspiring together to try to end her campaign.
Wednesday, Kevin Hayslett announced he is running for FL-13. Hayslett was the defense attorney for William Braddock in the murder-for-hire case that Paulina brought against Braddock. 
One connection involves William Braddock, who was caught on a leaked tape, appearing to make threats, saying he has access to hit-squads in relation to Luna:
"But if [Paulina being killed] needs to be done, it needs to be done. Luna is a f— speed bump in the road. She's a dead squirrel you run over every day when you leave the neighborhood."
"I have access to a hit squad too, Ukranians and Russians," Braddock said, according to the tape. In the end, no restraining order was filed against Braddock.
Braddock has connections to Kevin Hayslett, a recently announced FL-13 candidate, Matthew Tito, Amanda Makki, a current FL-13 candidate, and Christine Quinn, a Trump-Republican turned never-Trumper. They all have one goal: take down Anna Paulina Luna.
Braddock was running in the FL-13 race, but dropped out. According to evidence from Braddock's court case with Luna reviewed by FCV, Braddock formed an "alliance" with Matthew Tito, a former Republican House Nominee and Amanda Makki volunteer/staffer, and Makki, a current FL-13 candidate against Luna.
"Also keep this between us but Tito might jump in for FL-13 as well and between us two Marines, we will make Luna look like the joke she really is … We have an alliance and Lun[a] is our target," a message from Braddock reads.
In another message, Braddock explains he also has an alliance with Makki: "I'm not f—ing around, I formed an alliance with Makki as well. We cannot let Luna the lunatic win."
Braddock worked for Pfizer in Shanghai as an IT Project Manager, according to his testimony: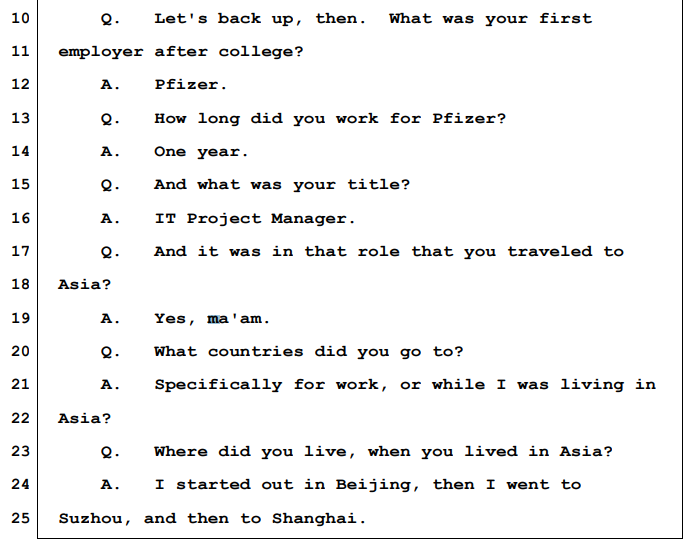 Amanda Makki has failed to condemn Braddock himself for his alleged threats against Luna's life via hit squad, and she has been documented by OpenSecrets.org actively lobbying with left-wing group "Sixteen Thirty Fund." Despite the documentation, Makki denied her involvement.
Makki told FCV that in a letter to Luna's attorney on June 18, 2021, she denounced Braddock's "troubling statements" and "vehemently [denied] any of the statements made by Braddock."
The Sixteen Thirty Fund is a liberal dark money group that received at least around $17 million in 2020 grants from leftist billionaire George Soros.
Makki also lobbied for several other companies, like INSYS Therapeutics and Novo Nordisk, which are both pharmaceutical companies. Novo Nordisk recently purchased a massive pill plant from Purdue Pharma.
Makki is also a former Lisa Murkoswki aide, one of the top Republican U.S. Senators that opposed President Donald Trump (R) on numerous hot-button issues, like when she voted to convict him.
Tito, who decided not to run for FL-13, had a "temporary injunction for protection against stalking" filed and granted against him according to a woman's social media, after she released evidence of sexual harassment and revenge pornography.
According to witness testimony, Tito met with Braddock and Makki several times. Braddock also confirmed witness testimony to WFLA 8, saying that they spoke weekly. He also has not condemned Braddock for his alleged threats.
Kevin Hayslett, a recently announced FL-13 candidate, appears to be in the grand scheme to take down Luna. Hayslett was the defense attorney for Braddock's case in court, where Luna was seeking a restraining order.
Christine Quinn is a four-time failed FL-14 candidate who later moved to FL-13. Quinn is a known associate of Tito, who had a stalking injunction filed against him.
Luna will face off against the candidates in the primary on August 23. Luna has been endorsed by President Donald Trump.

Updated to include comment from Amanda Makki and crop an irrelevant name from Amanda Makki's OpenSecrets profile image.
Florida's Voice is a patriotic news network that you can trust to deliver the truth with no hidden agenda. Founder and Editor in Chief Brendon Leslie left his job in mainstream news to practice journalism as it should be, unbiased and unbossed.