DeSantis Rakes in $100M as Democrats Admit Florida is a "Red State"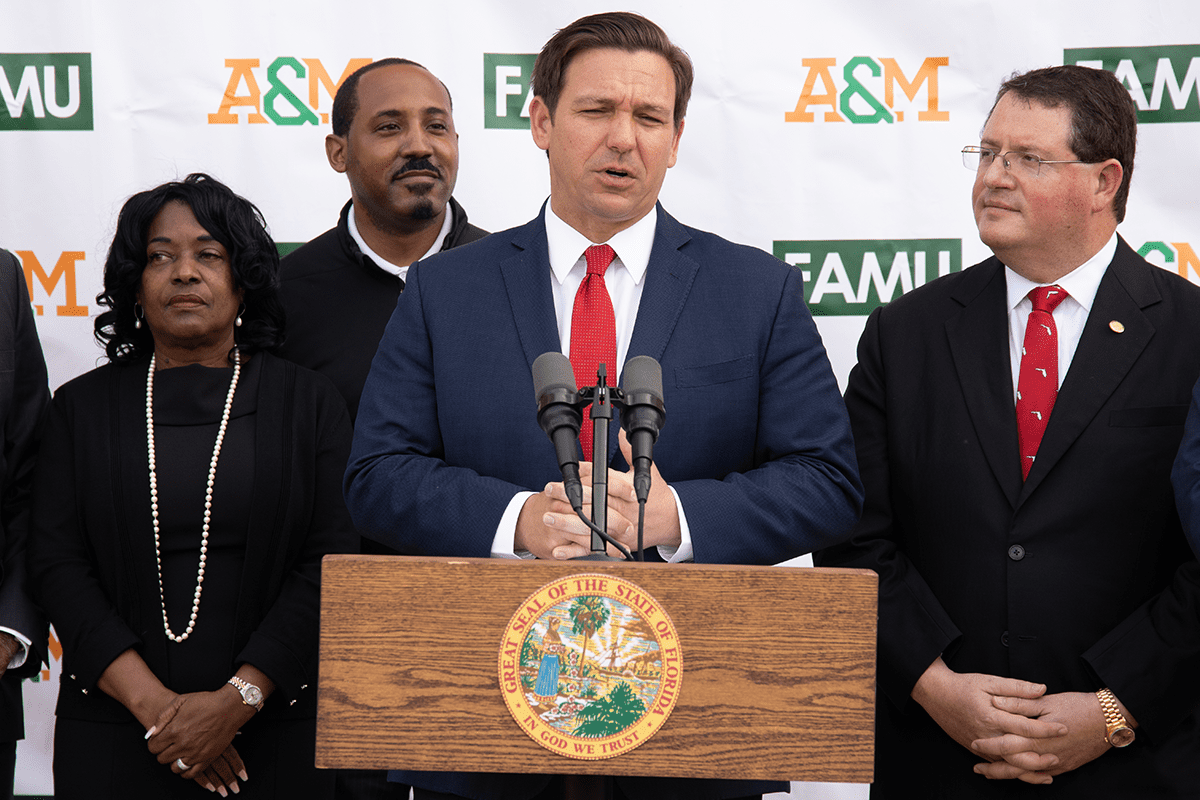 April 11, 2022 Updated 8:30 A.M. ET
TALLAHASSEE (FCV) – Governor Ron DeSantis won his 2018 election against Democrat Andrew Gillum with a razor-thin margin of 0.4%.
Now, as Donald Trump won the state by more than 3 points and Republican registrations hitting over 100,000 ahead of the Democrats, Florida has become a lost cause for the Democrat Party.
At a campaign event for U.S. Representative Val Demings (D), POLITICO reporter Gary Fineout said that Tallahassee City Commissioner Curtis Richardson said of the "GOP voter advantage in Florida" that "We're a red state ya'll. We've got some work to do."
The declaration from the Democrat was met with smiles from Republicans like activist Scott Pressler, who is touring Florida to get even more voters registered with the Republicans.
DeSantis has also hit a record-setting $100 million in political donations for his 2022 re-election bid. Opponents Charlie Crist and Nikki Fried, both Democrats competing in a primary to be held on August 23, raising mere hundreds of thousands over the months to DeSantis' millions.
To the confusion of conservatives, Fried is a hold-out on the notion that Florida is a "red state." She said on social media that "Florida's a blue state," despite all polls, fundraising numbers, party registrations, and even statements from members of her own party saying otherwise.
According to RealClearPolitics, which aggregates polls and averages them for a more accurate depiction of elections, DeSantis is leading Crist by 8.8 points and Fried by 12.8 points in hypothetical matchups. However, it is worth noting that sizeable amounts of voters remained undecided in some polls.
A poll from the University of North Florida gave DeSantis the biggest leads – eclipsing 20+ points.
The same poll from the University of North Florida found that Crist is the frontrunner in the Democrat primary for Florida Governor by 8 points: he sits at 27% while Fried sits at 19%. The other candidates garnered a total of 9% of the vote.
Florida's Voice is a patriotic news network that you can trust to deliver the truth with no hidden agenda. Founder and Editor in Chief Brendon Leslie left his job in mainstream news to practice journalism as it should be, unbiased and unbossed.