FACT CHECK: FL Law Does Not Require Students and Professors to Register Political Views with the State
July 6, 2022 Updated 8:00 A.M. ET
TALLAHASSEE (FLV) – Democrats and other activists have circulated an old and false news article from "Salon" claiming a new Florida law will require students and professors to register political views with Florida.
VERDICT: False. The new law does not require students and professors to register their political views with Florida.
The news article claims that a 2021 Florida law requires faculty and students be surveyed on their own political beliefs and viewpoints.
Bill sponsor, State Representative Spencer Roach, has said the survey will be voluntary. The Florida Department of Education told PolitiFact that the survey would not ask about individuals' political beliefs. It would ask if people feel they can express political viewpoints in their college classrooms.
The Republican-backed legislation aims to ensure "intellectual freedom" and viewpoint diversity within higher education. Survey results could be used for future policy decisions.
Even though the news article's claims were already debunked, many hopped on the bandwagon to share the inaccurate information. Democrat candidate for governor Nikki Fried tweeted the article Tuesday, but has since deleted it.
"The state of our state is increasingly fascist," Fried said.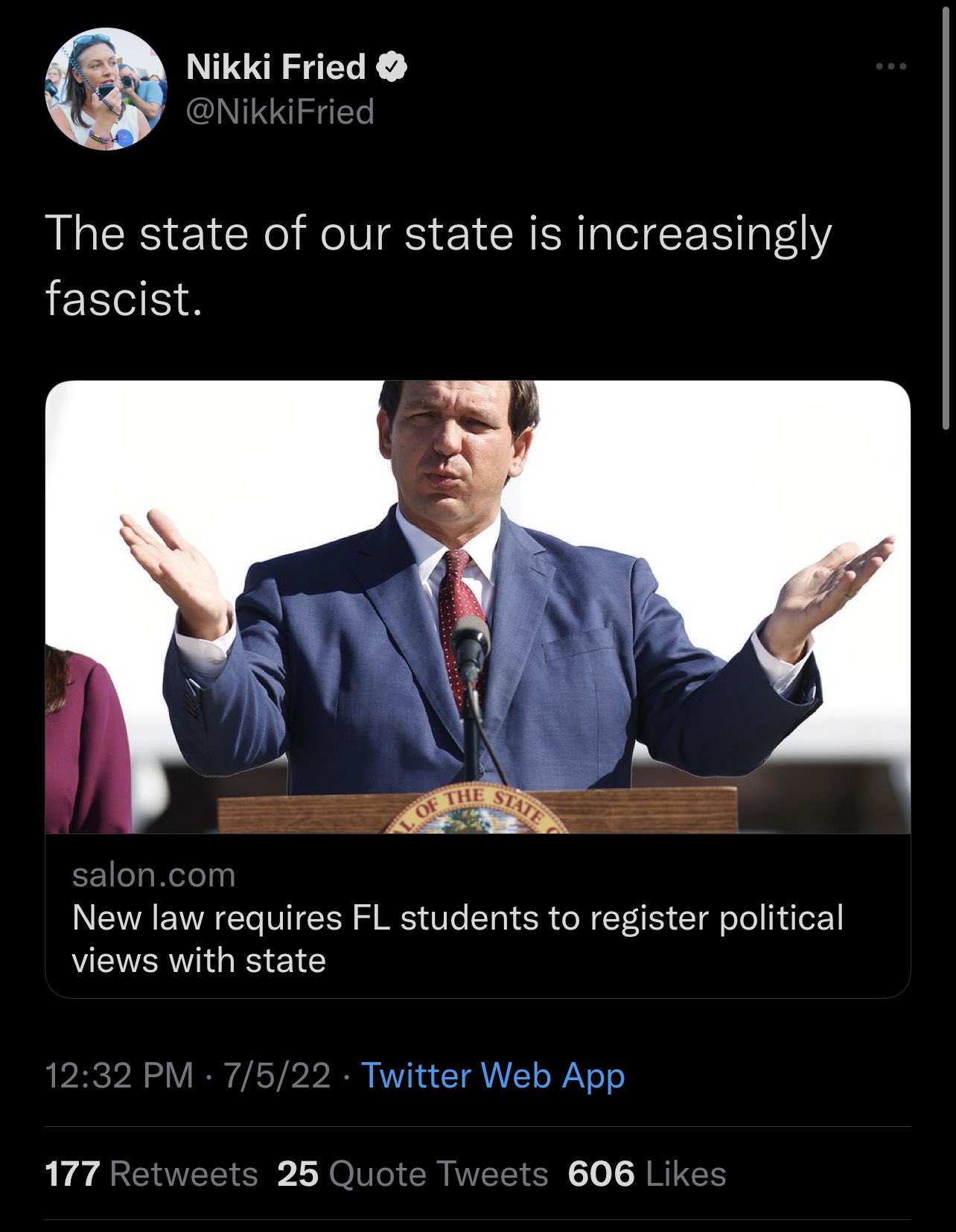 John Cooper, the former National Finance Chair of 'Draft Biden' tweeted the inaccurate article.
The Tallahassee Democrat shared the survey distributed to universities. It asks whether the institution provides an environment for free expression of ideas. Other questions include whether university employees are encouraged to consider a variety of viewpoints, and whether the institution is equally tolerant to both liberal and conservative ideas.
The survey does not ask a person's political beliefs.
Mainstream media reporters condemned spreading of the misinformation.
Florida's Voice is a patriotic news network that you can trust to deliver the truth with no hidden agenda. Founder and Editor in Chief Brendon Leslie left his job in mainstream news to practice journalism as it should be, unbiased and unbossed.