Top 5 Fake News Reporters for the Week of 5/8-5/15
Florida's Voice Presents Florida's Top 5 Fake News Reporters of the Week: Every week, FLV will rank the worst reporters covering Florida politics. Our team, and readers, have noticed a stark uptick of fake news "journalists" that are consistently lying or misleading the public on Florida affairs in politics, ranging from Governor Ron DeSantis to COVID-19. In an effort to promote more journalistic integrity, these individuals will be cited for their attempts to mislead the public.
5. Frederica Wilson (Miami Herald)
Wilson claims that Republicans who are pro-life only hold that belief "until the baby is born."
"I often hear my Republican colleagues claim to be "pro-life." Yet, they only care about a baby until it is born. Then they disappear and abandon the children they claim to protect," she said.
A common false claim from the left is that because Republicans are free market (oppose forms of universal healthcare), they must not be 'pro-life' after the baby is born.
In fact, Republicans like Gov. Ron DeSantis are vehemently pro-life up until the end moments of life, with DeSantis proposing millions in family-supporting programs and support for lower taxes, allowing families to keep more income and live more comfortably, while Democrats prefer higher taxes.
4. Khaleda Rahman (Newsweek)
In Rahman's article, Newsweek gives a one-sided story in support of a Parkland father who blames Gov. Ron DeSantis for the Buffalo, New York shooting.
"'Whether or not he's intentionally embracing it or not, in Florida, over the past few months, there have been multiple instances of white supremacists showing up and being really disgusting and evil,' he said."
Rahman gives no opposing viewpoint, nor cites any facts debunking the father – as DeSantis has never one endorsed violence, mass shootings – he only supports lawful usage of firearms.
3. Chris Persaud (Palm Beach Post)
Gov. Ron DeSantis Press Secretary Christina Pushaw called out Persaud for taking her quote out of context: "Why would a *reporter* take my words out of context?"
In the article, Persaud cites Pushaw's quote in very limited context:

The full email shows a different story: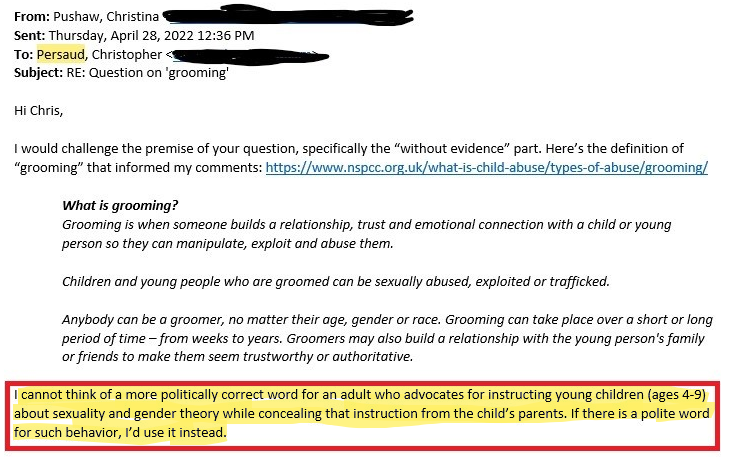 2. Keith Edwards (Nikki Fried Campaign) & The Lincoln Project
The Lincoln Project, notoriously anti-Republican and anti-conservative, send out a fake image of an email purportedly from the DeSantis campaign saying he intends to potentially run for president:
Why did the campaign not vet information found on the internet?
1. Scott Powers (Florida Politics)
Pushaw called out Powers for being "dangerously close to defamation territory" in an email.
"Ron DeSantis' press secretary dismisses criticism of comment on 'fake Nazi' tweet," the headline reads, referencing an accusation that Pushaw retweeted a claim that Attorney General Candidate Daniel Uhlfelder orchestrated a Nazi-flag waiving incident at Walt Disney World in Central Florida.
Of course, Florida Politics published the baseless accusation and did not cite evidence to support she tweeted it.
Florida's Voice is a patriotic news network that you can trust to deliver the truth with no hidden agenda. Founder and Editor in Chief Brendon Leslie left his job in mainstream news to practice journalism as it should be, unbiased and unbossed.