FACT CHECK: Christina Pushaw Did not Deny Nazi Protest, Leftist Media Lies Again
January 31, 2021 Updated 5:15 P.M. ET
ORLANDO (FCV) – As a neo-Nazi protest took place in Orlando, Governor Ron DeSantis' (R) Press Secretary Christina Pushaw took to Twitter to express reasonable suspicion that the protestors could have been set-up by left-wing actors to make conservatives look bad.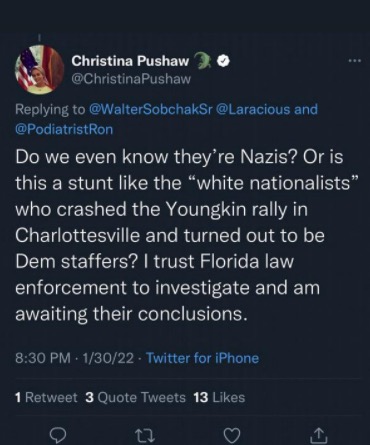 Pushaw's hesitancy to draw conclusions was hearkening back to when a group organized by the left-wing organization The Lincoln Project posed as neo-Nazis to target now-Virginia Governor Glenn Youngkin (R).
At the time, liberals were quick to jump to concluding that the Nazi protest was showcasing so-called white supremacy from Glenn Youngkin. In reality, once all facts were released, it was revealed that it was a false-flag organized by leftists.
The same suspicion remains in conservatives like Pushaw, who desire to wait for all information to be released before making loaded conclusions.
Florida Politics and their owner, Peter Schorsch, used Pushaw's tweet to manipulate her words by claiming her tweet "suggests denial of Nazi protest."
"The Press Secretary for Gov. Ron DeSantis appeared Sunday night to question whether a Nazi flag hung from an Orange County bridge was in fact the effort of Nazis," author Scott Powers wrote in an effort to discredit Pushaw's question.
After more information was revealed, it has been confirmed that the protest was not a false-flag. However, Pushaw explained on social media that this does not excuse leftist attempts to paint all conservatives and DeSantis-supporters as Nazis.
Pushaw responded to critics like the Anti-Defamation League that claim she is 'covering' for Nazis, saying she was reacting to DeSantis critics "FALSELY claiming he was involved in this rally:"
The demonstration in Orlando showcased a banner that read "Let's Go Brandon," a popular memetic slogan used by those opposed to President Joe Biden (D), which was construed by Florida state Senator Shevrin Jones (D) to paint the slogan as a Nazi phrase:
In reality, the claim that DeSantis and Pushaw are anti-Semitic is incorrect and unfounded.
"Let's Go Brandon" is an expression used to express sarcastic discontent with Biden's presidency – just because Nazis used the same slogan does not mean that conservatives who use the slogan in opposition to Biden are Nazis.
Florida's Voice is a patriotic news network that you can trust to deliver the truth with no hidden agenda. Founder and Editor in Chief Brendon Leslie left his job in mainstream news to practice journalism as it should be, unbiased and unbossed.