Canada Sees COVID Spike After Vaccine Mandate for Travel, DeSantis Vindicated on Restrictions
May 2, 2022 Updated 9:22 A.M. ET
TALLAHASSEE (FLV) – By November 30, 2021, travelers in Canada were required by the government to be fully vaccinated against COVID-19.
"If travellers have not already started the vaccination process, or do not start soon, they risk not qualifying for travel as of November 30," the Canadian government said.
Since November, the COVID-19 hospitalization situation has been drastically different, and the requirement was not seen to be effective.
According to Canada COVID-19 data aggregated by Ian Miller, the current hospitalizations tally spiked drastically after the vaccine mandate went into effect, during the Omicron outbreak, and again spiked from late March into late April.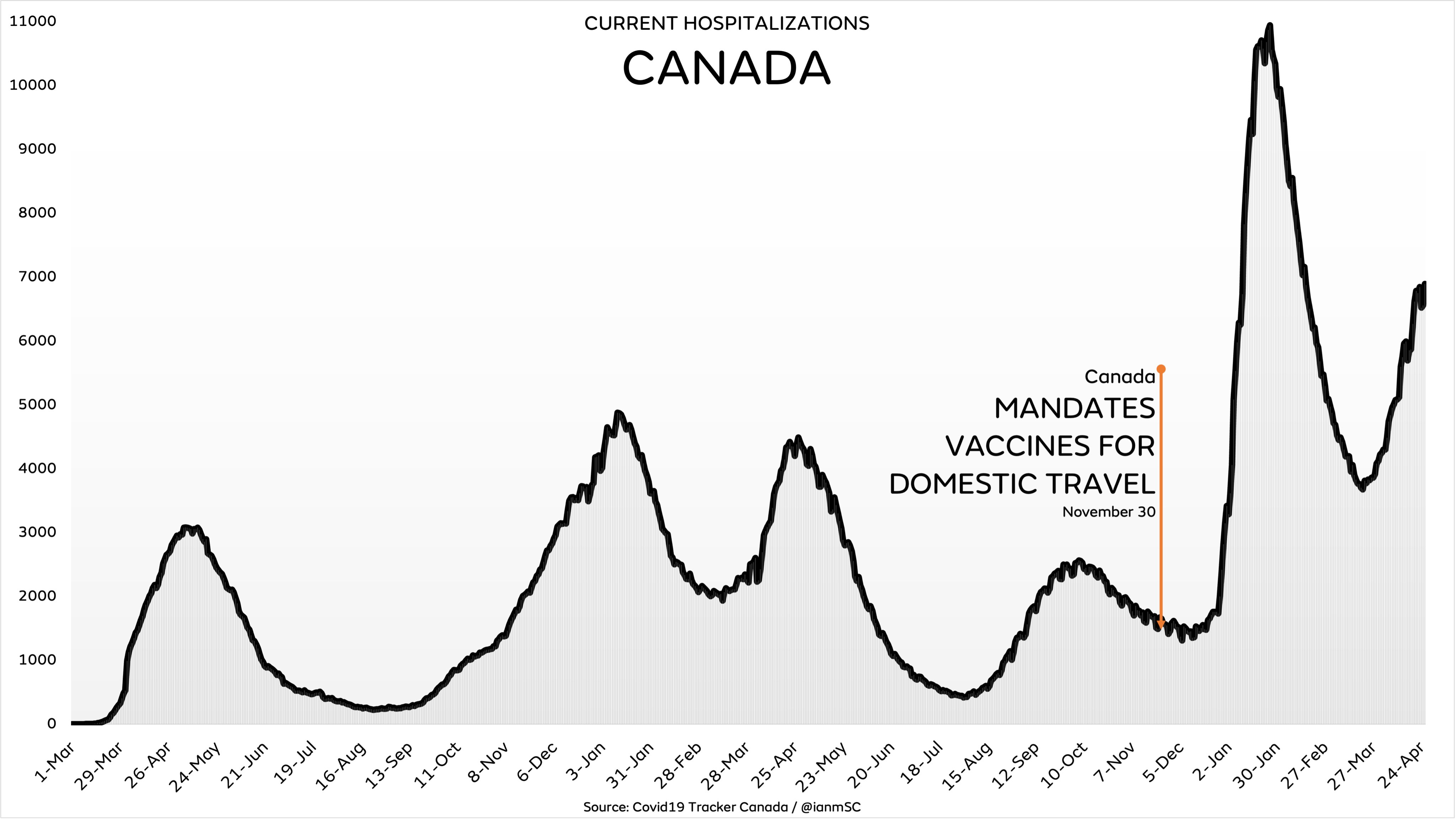 An Executive Order from Gov. Ron DeSantis reads that vaccine passports and requirement are almost entirely outlawed in Florida.
Despite Florida's high elderly population, the state run by Republicans currently has 915 people hospitalized compared to Canada's over 6,000.
Florida has no COVID-19 restrictions in place, and DeSantis has vowed to never lock down the state.
Studies have shown that lockdown policies are not effective.
DeSantis has been proven correct several times on COVID-19 restrictions like mask and vaccine mandates not working, like in Virginia where Republican Gov. Glenn Youngkin lifted a schoolwide mask mandate and noticed a 93% case decline.
According to a study out of the Center for Disease Control and Prevention, lockdowns were linked to poor health outcomes, reinforcing DeSantis' anti-lockdown position.
"Loneliness and social isolation in older adults are serious public health risks affecting a significant number of people in the United States and putting them at risk for dementia and other serious medical conditions," the CDC says.
A John Hopkins University study on COVID-19 lockdowns also found that there was no noticeable impact on COVID-19 mortality rates with the introduction of lockdown policies.
The researchers said that the study shows "little to no public health effects" from lockdown policies. However, they noted that "they have imposed enormous economic and social costs where they have been adopted." The study's results confirm Governor Ron DeSantis' anti-lockdown stance.
"In consequence, lockdown policies are ill-founded and should be rejected as a pandemic policy instrument," they said.
Florida's Voice is a patriotic news network that you can trust to deliver the truth with no hidden agenda. Founder and Editor in Chief Brendon Leslie left his job in mainstream news to practice journalism as it should be, unbiased and unbossed.